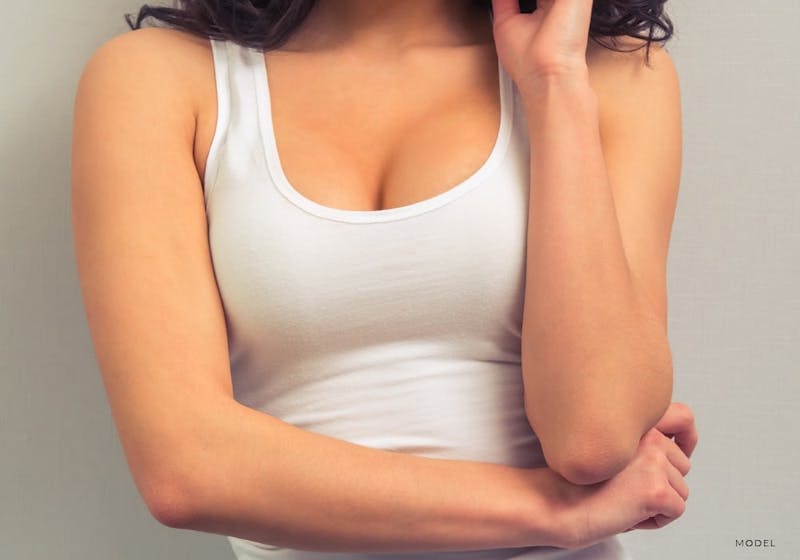 Dr. Zenn of Zenn Plastic Surgery consults with many women desiring a breast lift. These potential plastic surgery candidates have usually experienced breast sagging and skin laxity due to significant weight changes, pregnancy, or the natural aging process. Desiring breasts that are perkier and more youthful-looking, these women seek out Dr. Zenn for his reputation as "the breast expert" in Raleigh, NC. He has earned this reputation from his 25+ years of experience performing breast lifts and delivering realistic-looking, natural results for his patients.
During their initial consultation with Dr. Zenn, women desiring a breast lift inquire about the potential scarring from the procedure. For some, the fear of noticeable scars prevents women from ever having breast surgery. Dr. Zenn believes patient education is critical to a successful outcome and realistic expectations from breast lift surgery. Dr. Zenn is well-versed in all breast lift techniques and will tailor your surgery to your specific anatomy. During your consultation, he will show you photos from his extensive patient base of women who had similar surgery to what he has proposed for you so you can evaluate the scars for yourself and decide if they are right for you.
There are four general types of breast lift incisions and resultant scars:
The Crescent Lift
The Donut Lift
The Lillipop Lift
The Anchor Lift
Each of these incision types has its benefits and drawbacks. Scars will always be present after surgery but do fade over time. Scars will only be seen by others when you are naked. Otherwise, they are well hidden in a bra or swimsuit top. Although during a breast lift, the nipple position will be lifted, the nipple is never actually removed from the breast. The scars are a result of removing the extra skin only.
THE CRESCENT BREAST LIFT
The crescent breast lift gets its name because it removes a crescent shape of skin above the areola, and the resulting scar is only present around the top curve of the areola. With a crescent lift, the nipple-areola complex is lifted only a few centimeters, so this technique is only used in cases of minimal drooping. The scar is desirable as it is disguised somewhat by the natural coloration changes between the breast areola and the breast skin.
THE DONUT LIFT
The donut lift is another popular breast lift incision type for women desiring minimal scarring. With this procedure, a periareolar incision is made, that is, an incision around the entire areola, from which Dr. Zenn works his magic and lifts the breast. A more invasive incision than a crescent breast lift, the donut lift allows for more breast lifting. Just like with the crescent breast lift, the natural coloration changes between the areola and breast mound help disguise the scarring from this procedure.
THE LOLLIPOP LIFT
The lollipop lift, or vertical lift, is required when excess skin makes the breast appear wide. In this case, some skin must be removed in the vertical direction to give a nice natural shape to the breast. Many patients gladly trade this scar for a more lifted, youthful breast.
THE ANCHOR LIFT
The anchor lift leaves a scar that looks like an "anchor" with both a vertical and a horizontal component. This scar is required when a breast has excessive vertical and horizontal skin excess, which results from its removal. The Anchor Lift scar is often used in breast reduction surgery, which also lifts the breasts and reduces their size.
WHICH BREAST LIFT INCISION IS RIGHT FOR ME?
Every woman's degree of breast sagging and skin laxity is different; therefore, the available incision types for her will be unique, too. Sadly, many plastic surgeons only perform anchor scars when lifting a breast, and Dr. Zenn feels that adds unnecessary scars for many patients and deprives them of a beautiful breast shape. That's why Dr. Zenn stresses the importance of an initial consultation with him, during which you'll discuss your scar preferences and desired results. This information, combined with examining your breasts, will allow Dr. Zenn to determine what is possible and which he recommends as the best incision type for your unique case.
SCHEDULE AN INITIAL CONSULTATION TODAY
Schedule a breast lift consultation with the expert if you're ready to regain shapely and beautiful breasts. Schedule an appointment with Dr. Zenn today at (919) 480-3885.