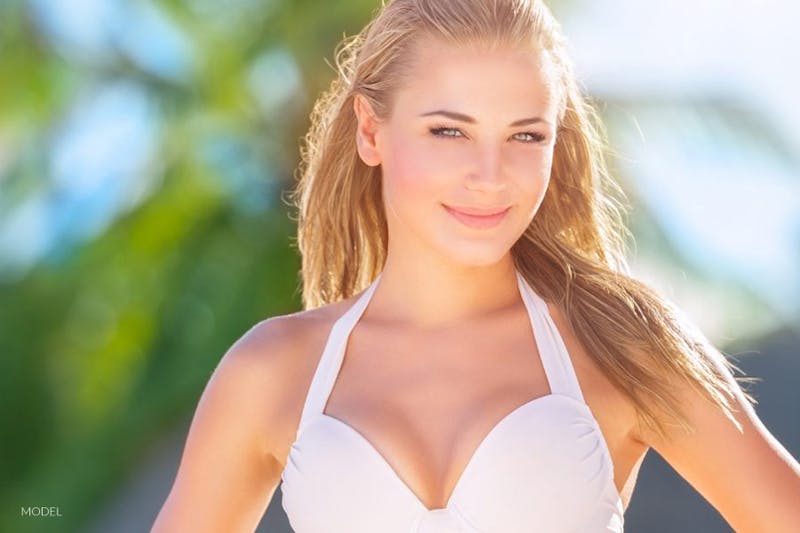 Women with huge, often disproportionate natural breasts experience severe sagging, usually accompanied by back and shoulder pain and lowered self-esteem. Patients with this condition are uncomfortable in bathing suits and sometimes avoid being seen naked due to embarrassment. Clothes don't fit properly, blouses don't button, and bras are almost always underwired and uncomfortable. There is no way to avoid needing a heavy-duty bra to lift the breasts to give them any shape.
Breast Reduction Surgery Explained
Breast reduction surgery is a common plastic surgery procedure. Dr. Zenn has performed thousands of breast reduction surgeries over his 25+ year career. He is well-versed in the many techniques for breast reduction. He will select the method that best fits a patient's anatomy and aesthetic concerns.
During a breast reduction surgery, Dr. Zenn will make the chosen incision type and reduce the volume of a patient's breasts. Typically, he can remove as much as one-half to three-quarters of a breast volume during an average breast reduction surgery.
With his ability to remove so much breast volume, the new look of your breasts can be life-changing. You will immediately notice the relief in your neck, shoulder, and back. You will be back to work in a week. Over the next few months, your shape will settle, and you will forget you were ever so large.The only thing your friends and colleagues will notice after the first week is your beaming smile!
The surgery will balance your silhouette. Our breast reduction patients are undoubtedly among our happiest post-operative patients, often telling the staff, Dr. Z, and anyone that will listen that this surgery was the best thing they ever did for themselves.
Am I A Good Candidate For Breast Reduction Surgery?
In addition to providing you with the desired results, Dr. Zenn's primary concern is your health and safety. As such, he has a strict list of criteria for women to meet to become one of his breast reduction patients:
Patients must be in good general health and able to pass a preoperative exam by a primary healthcare provider.
Breast reduction surgery should be done when a patient is at a stable weight. If weight loss is planned for the future, lose it first, or it may affect the final aesthetic of the breast reduction surgery.
Have realistic expectations for your surgery. This will be discussed in consultation with Dr. Zenn. Patients must understand the goals, what the scars will look like, and what the final cup size will be.
Dr. Zenn insists patients either be non-smokers or quit smoking at least two months before and after the procedure. This is non-negotiable with Dr. Zenn, as smoking can complicate the surgery and your recovery time.
Being in good psychological health before entering any elective surgery is essential.
Schedule A Breast Reduction Consultation Today
As the most experienced breast surgeon in the Raleigh area, Dr. Zenn of Zenn Plastic Surgery knows how to deliver the results his patients want. He understands that breast reduction surgery isn't just about going smaller but also about having breasts that are pretty and nicely shaped, both in and out of clothes. Fortunately, breast reduction surgery can deliver both the reduced size of breasts and the shape and contour women desire.
Contact Zenn Plastic Surgery today for an initial consultation; call our office at (919) 480-3885.