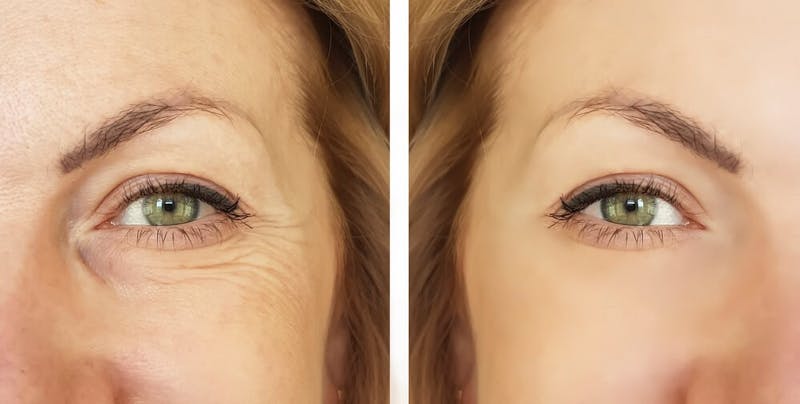 Many people undergo facial cosmetic surgery to lessen the impact of aging.
Understanding What a Facelift Can Do
Many patients are unaware that facelift plastic surgery does have its limitations. For instance, a facelift is a cosmetic facial surgery to tighten loose skin and decrease wrinkles on the mid-face to lower face/neck region. A facelift will improve the facial appearance from the nasal area and below.
The fact that a "facelift" can be interchanged with the term "neck lift" should help patients understand this procedure's limitations on upper facial structures like the eyes, brows, and forehead.
Can a Facelift Restore Facial Skin Volume & Plumpness?
As we age, our facial volume decreases, causing us to lose the plumpness of youth. Harsh environmental exposure to the tender skin near the eye and cheek areas certainly contributes to aging. This can result in deep hollows surrounding the eyes and near or beneath the cheekbones.
A facelift alone won't restore lost facial skin volume, as it corrects the lower-mid face region but not the cheeks or eyes. However, plastic surgeons can remove unwanted fat from other areas of the body and transfer this fat to the face. Doing so then plumps up the areas of the face that were lacking. Cosmetic surgeons often perform this surgery simultaneously with a facelift, restoring the facial structures' younger, more youthful-looking contours. It is essential to find a plastic surgeon with a lot of experience with facial fat grafting as it is a delicate procedure done well when in the hands of a very experienced surgeon.
Can a Facelift or Neck Lift Fix Deep Sagging Jowls?
The first signs of aging are often noticeable by the development of deep or sagging jowls. This facial feature occurs becasue gravity pulls down loose or sagging skin from the jawline to the neck region. This is often due to genetics, so people with parents or other close relatives who develop this feature are more likely to develop jowls. Since a facelift can be interchanged with the term neck lift, these procedures are highly effective in fixing this telltale aging sign by stretching and trimming excess jowl/neck skin folds and reattaching to stable facial structures, leaving the lower face and neck area smoother and better contoured for a more youthful appearance.
Will a Facelift Change the Appearance of My Nose?
While a facelift can diminish those deep creases that often form near the base of the nasal tips that may extend downward to the outer corners of the lips, a facelift will not change the overall appearance of your natural nose. Patients who desire to reshape their nose, fix nasal cartilage bumps, or otherwise alter their nose's size, shape, or unique characteristics will need to undergo a rhinoplasty.
Will a Facelift Fix Droopy Eyelids or Eye Wrinkles?
A facelift will not fix droopy eyelids or eye wrinkles. There are different cosmetic procedures to address these problems.
Droopy eyelids, crows feet, eye area wrinkles, fine lines, and creases can all be improved with blepharoplasty or eyelid surgery. This eyelid surgery can occur concurrently with a facelift or on its own. Therefore, patients who don't yet need lower face/neck cosmetic repair procedures are still candidates for blepharoplasty. Generally, patients start younger with eye facial surgery before undergoing a facelift. Frequently, eyelid surgery is combined with a brow lift procedure as well.
What Exactly is a Brow Lift?
The term "brow lift" refers to the cosmetic facial procedure that targets the upper face region, including the forehead. Many individuals undergo a brow lift to correct deep forehead creases and open their eye area for a younger and refreshed facial appearance. When Botox injections no longer resolve aging forehead furrows or wrinkles, some patients opt to undergo a brow lift to elevate or raise the position of their eyebrows. This is a beautiful procedure to resolve that tired facial expression that often comes with advancing age.
Many women begin to notice increasing difficulty in applying eye makeup as their brow line droops lower, recessing the upper eyelids. A brow lift can dramatically smooth forehead wrinkles and diminish eyelid drooping and eye area wrinkles. The brow lift procedure can also be performed without other surgery.
Learn more regarding facelifts and other facial cosmetic surgery options in Raleigh, Chapel Hill, and Durham, NC, by accessing Zenn Plastic Surgery via https://zennplasticsurgery.com.