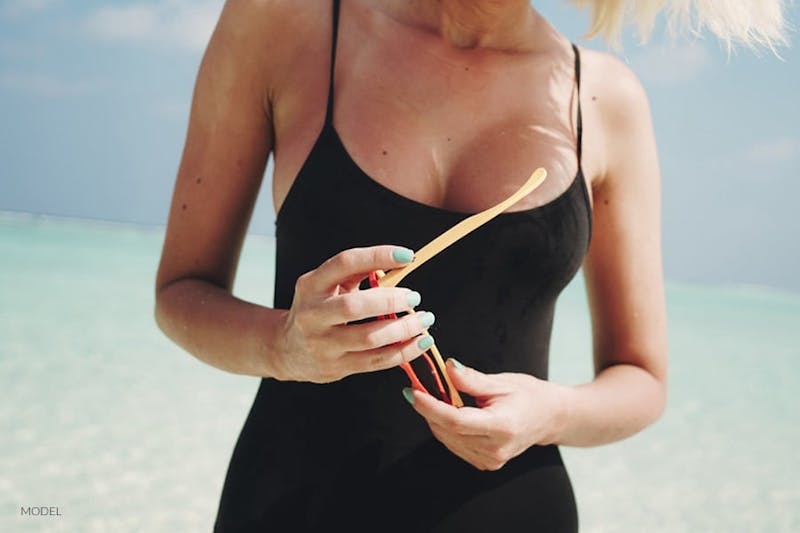 Having a breast augmentation surgery is often an exciting time in a woman's life. Perhaps, through breast augmentation, she is receiving the breasts she's always desired. In other cases, a woman is regaining the breasts she formerly had that she lost due to pregnancy, weight loss, or aging. Whatever the reason, getting breast augmentation is a time to celebrate!
There are, of course, a careful list of postoperative instructions that Dr. Zenn provides all his breast augmentation patients to ensure proper healing and the best possible results. Here's a list of the most common dos and don'ts after having a breast augmentation surgery.
Do:
Get plenty of rest. Anytime you have surgery, you need rest to allow your body to recover. Make sure you take at least a few days off work or your other daily routines to recuperate after receiving a breast augmentation. Sleep in the fetal position, on your back with it, elevated by the help of pillows, or in a recliner. These comfortable sleeping positions will help you heal while you sleep. Perform breast massage. After a week and cleared by Dr. Zenn, you should perform several breast massages throughout the day. Dr. Zenn will give you specific massage instructions for your case. Massage is recommended to help your breast implants settle faster, keep them soft. Early massage is helpful to expand the pocket containing the implant so it can move and look like a natural breast. Take your pain medication exactly as described. If you feel discomfort, you want to stay on top of your pain. Dr. Zenn recommends that his patients start on an NSAID (Motrin, Aleve) right after surgery and often this is all that will be required. Narcotic prescriptions are available to any patient who requires it but most do not. Eat healthily. It's always important for you to get proper nutrients, but never more important than when you are healing from surgery.
Don't:
Sleep on your stomach. Doing so while you are healing from breast augmentation surgery puts undue stress on a woman's new breast implants. Do any heavy lifting the first week while you are recovering, including lifting your small children. The extra weight and pressure on your body just aren't worth it if you want to heal properly and have the best possible results. Swim in a pool, lake, or ocean. Wait until Dr. Zenn gives you the all clear. This is to ensure that you don't inadvertently introduce any water or bacteria to your incisions that are healing. You will be able to shower the day after surgery! Smoke or use any other tobacco products. Tobacco use isn't only bad for your cardiovascular health, but it also delays your body's natural healing process. This is so serious, Dr. Zenn typically requires his patients be non-smokers, or quit 2 months before and one month after their breast augmentation. Do any strenuous exercise the first week or two. While light activities such as walking or driving may be resumed after a few days, any activity that causes the breasts to move excessively (running, cardio classes, yoga) cannot be resumed for about 2-4 weeks after your surgery. Zenn will review your specific case and healing and will give the okay to resume your favorite activities.
Learn More About Breast Augmentations and the Recovery Process
If you want to learn more about the breast augmentation surgery or its recovery process, the best thing you can do is schedule an initial consultation with Dr. Zenn himself. During this appointment, Dr. Zenn will explain the procedure, recovery time and answer any question you have.
To schedule an initial consultation, contact Zenn Plastic Surgery today at (919) 480-3885.