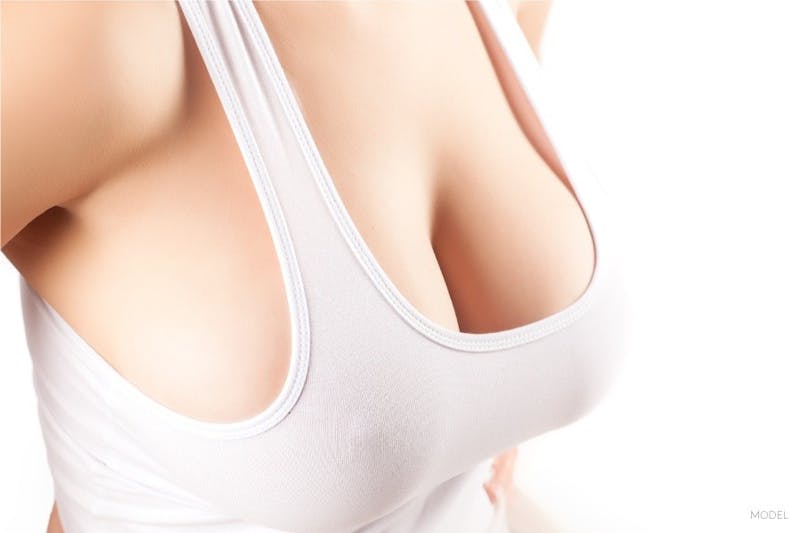 One of the biggest concerns women have when they begin to consider breast augmentation is, "How big should I go?" While that's a great question, there is not a simple answer. In fact, the size that your friend has or the size you might see on someone online does not translate to the same size or look on you. When deciding on the right breast implants size, your specific body type has several factors to consider. Keep reading for 3 quick tips to choose the correct size for you.
1. Consider The Many Types Of Breast Implants Available
When choosing the right size breast implants for your breast augmentation with Dr. Zenn, you'll need to decide on the type of breast implant you'll want:
Silicone Breast Implants
Dr. Zenn typically recommends smooth silicone breast implants for his breast augmentation patients. These implants offer the most natural appearance whether you are standing up, lying down, or being active. Additionally, silicone breast implants are the most popular choice for women nationwide. Not only do they look natural, but they feel like natural breasts, and that differentiates them from saline. Due to the controversy with textured breast implants and lymphoma (ALCL), Dr. Zenn only uses smooth implants.
Saline Breast Implants
Saline implants are another option to consider when planning your breast augmentation. They were the only implants woman could get in the late 1990's due to the moratorium on silicone (since resolved). Women have been happy with the end result as they increase the size of the breast and improve shape. In some women, they can feel like a bag of water as they do not have the softness and consistency of the silicone implants that mimic natural tissue better. Also keep in mind that there is a 1-2% rupture rate and when they rupture they go flat and need to be replaced. Not true with the cohesive (solid, gummy bear) implants that are used today.
2. Decide On The Right Shape Breast Implants
Breast implants come in two shapes:
Round Breast Implants
Dr. Zenn most often recommends round breast implants for his patients because they best mimic natural breasts – round when lying flat and tear-drop shape when standing. They can move more naturally and provide more cleavage in clothes. If they turn they look the same since they are round.
Teardrop Breast Implants
These breast implants are shaped like a teardrop and are fuller at the bottom than at the top, similar to the shape of a breast when you are standing. This means there is less change in shape with different positions(lying, standing). These implants are also textured so the body can grow into them so they don't turn or rotate- which is noticeable. Also, textured implants are linked to cancer (ALCL). For these reasons, shaped implants are currently out of favor.
3. Decide On The Right Profile Type For Your Implants
The profile of your breasts implants indicates how far out your breasts will project from your chest wall:
Low Profile Implants
Low profile implants do not project much from the chest wall and have a wider base and a flatter appearance. They are best for women with existing breast tissue that needs more projection and upper breast fullness for cleavage.
Moderate Profile Breast Implants
This profile type can replace breast tissue volume if the natural breast is smaller and a more moderate and natural look is desired.
High Profile Implants
High profile breast implants provide the most projection from the chest wall and are used when women want to be significantly larger and they do not have much natural breast tissue.
Ultimately, the size of the implant will depend on the look you want. Each woman is unique in: how much breast tissue already exists, how wide the base of her breasts are to start, and how much droop exists. Different projections can be recommended by Dr. Zenn based on these differences. He is experienced enough to know what each implant type and size will look like and this is why his patients trust his judgment in the OR.
Call Dr. Zenn To Schedule Your Initial Consultation
When you visit with Dr. Zenn for your initial consultation, you will have a thorough consultation and exam. Dr. Zenn will discuss with you his recommendation and options that you may want to consider.
To learn more about choosing the right breast implants size for your body type, call Dr. Zenn today at (919) 480-3885