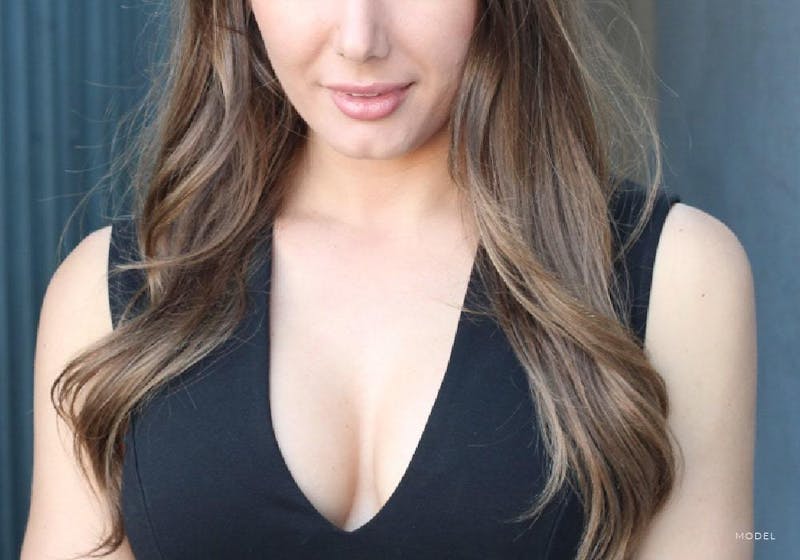 There are several things that affect how your breasts will feel to the touch after breast augmentation. And YES, it is completely natural to want to know how a breast with an implant will feel. This is a great question, and the answer depends on several different factors.
If this is a question or concern that you can relate to as you prepare for your breast augmentation surgery…… You have come to the right place.
Does the Type of Implant I get Play a Role in How My Breasts Feel to the Touch After Breast Augmentation Surgery?
Silicone Vs Saline Implants
There is a difference in how your breasts will feel after your breast augmentation with each of these implants. Saline implants are silicone outer shells filled with a sterile saline solution. Which is essentially salt water. Accordingly, saline implants can feel like a plastic bag of water. This is especially the case in thin women who have very little breast tissue to start (A or B cup).
Conversely, silicone implants are silicone shells filled with a cohesive silicone substance that mimics the feel of your natural breast tissue. They feel more like natural breasts to the touch. It should not be a big surprise then that most plastic surgeons no longer use saline implants. Most patients choose silicone implants because they want their augmented breasts to feel like natural breasts.
Breast Implant Placement
Another big factor is determining how your breasts will feel to the touch after your breast augmentation is where your breast implants are placed. There are two options: submuscular (under the muscle), or subfascial (over the muscle). Breast implants placed over the muscle will feel more natural to the touch. They will move more naturally as well. And this is the natural position of the breast, above the muscle.
In fact, when breast implants are placed under the muscle, they may move unnaturally whenever the muscles are flexed, as with arm movements. However, it is important to note that not every woman can have their implants placed above the muscle. If you do not have enough natural breast tissue to cover implants placed on top of the muscle, Dr. Zenn will need to place under the muscle to better hide them.
Existing Breast Tissue
For women who have a large amount of natural existing breast tissue, saline vs silicone may not make as much of a difference in how they feel to the touch. This is because their existing breast tissue is enough to cover the implant, leaving the implants deep to the skin and harder to feel. The natural breast tissue is pushed to the surface which makes them feel more natural to the touch. In some patients, this natural tissue can be augmented with fat grafting from other parts of the body utilizing liposuction and transferring the fat to the breasts.
Capsular Contracture After Breast Augmentation
If a woman develops hard firm breasts or irregular shape after breast augmentation, the most likely culprit is capsular contracture. This is simply scar tissue that has formed around the breast implants making them firm to the touch. This can be a result of infection or bleeding around the time of surgery and was much more common with older generation of implants that ruptured and leaked silicone gel. Today's implants are "cohesive" or solid and leaking of gel no longer occurs in the same way.
Do you have questions about how your breast will feel after breast augmentation? Or maybe you're ready to take the leap and have your breasts augmented? We will work with you to schedule a consultation date and time. And when you arrive, Dr.Zenn will guide you through the different steps involved, as well as answer whatever questions you may have
Do You Suspect After Breast Augmentation Surgery That Your Surgeon Has Left Your Breasts Anything Less Than Perfect?
Possibly your plastic surgeon did not achieve the look you expected. Or maybe after your breast augmentation surgery your breasts appear misshapen? Your breasts are lacking in symmetry and they look different? Bad breast augmentations can leave the breasts appearing as though they point in different or the wrong direction. Maybe a poorly performed breast aug has left you feeling regular discomfort. It's also a common problem for bad breast augs to leave what appears to be a rippling effect across the surface of the breasts.
Dr. Zenn has Focused on Breast Surgery for Literally 20 Years! If it's Breast Augmentation Revision You Need, Zenn Plastic Surgery in Raleigh, NC is The Place To Go. Even More, Dr. Zenn is an Internationally Recognized Expert in Breast Reconstruction Surgery for Breast Cancer Patients.
Call Us at Zenn Plastic Surgery Today (919) 480-3885