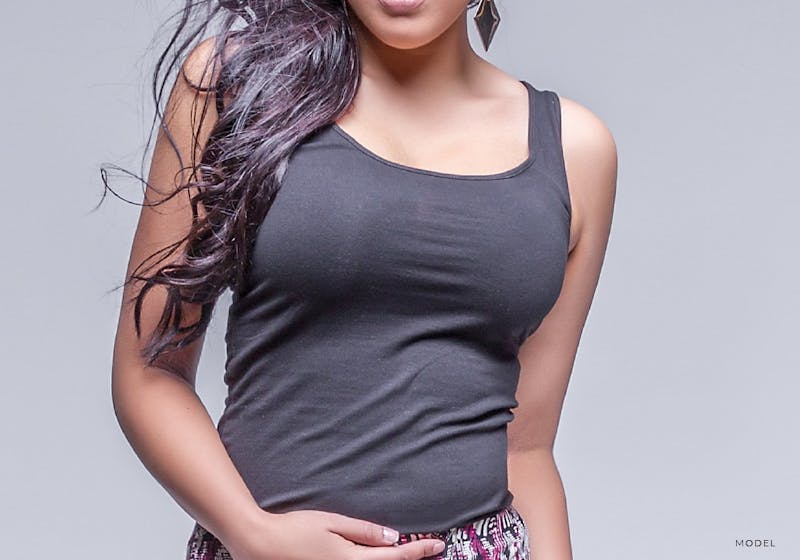 Many women planning to have a breast augmentation do a lot of online research in preparation for their surgery (which is great!). One of the most significant questions is choosing the right breast implant size for their bodies' size and shape. Too many women go into surgery wondering if their "chosen size" is too large or too small. The marketing fads of AI and 3-D imaging to predict final outcome is just that - a fad. Dr. Zenn's experience is that those gimmicks do not accurately portray final outcome. Sometimes patients worry that their surgeon will "decide size for them" during the procedure. Dr. Zenn has helped thousands of women through this exact conversation, and he knows how to help you make the best decision to get your desired outcome.
Below are five tips for choosing the right breast implant size.
CONSIDER HOW YOU WANT YOUR NEW BREASTS TO LOOK
Going into a consultation with an idea of how you want your breasts to look will help you and Dr. Zenn decide on the right breast implant size together. Do you want to get back to your pre-pregnancy breasts? Are you tired of being small and want to fill out a bra better? Or have your breasts begun to sag and droop from breastfeeding or weight changes? Having a good idea of your desired final outcome is one of the most helpful things you can do when choosing breast implant size. And bringing pictures from magazines or online can help direct your consultation.
MAKE SURE YOUR NEW BREASTS ARE A GOOD CHOICE FOR YOUR LIFESTYLE
Are you an athlete? Do you still want to have children? Are you overweight? Do you plan to lose weight? All of these things factor into choosing the right breast implant size. Also, this decision will impact your life now and have implications well into the future. For instance, if you are a woman who plans to have children immediately, it would be best to wait for your breast augmentation until you're done with your pregnancy and breastfeeding.
The current state of your weight and goals for weight is also critical. If you are in the process of losing weight, you will likely lose weight in your breasts. Therefore, you should wait for your breast augmentation until after you've hit your ideal body weight so your breasts will not change in size after an breast augmentation.
BE SURE YOU CHOOSE BREAST IMPLANTS THAT FIT YOUR BODY TYPE
Dr. Zenn's breast augmentation patients are thoroughly educated in the breast augmentation process, and specific recommendations are made based on their unique anatomy. Too many plastic surgeons use the same technique and implant on everyone. However, there is more to breast augmentation than just making large breasts. For example, Dr. Zenn will NOT place an implant that he believes is too large for a patient's body frame. While there are those surgeons who will go as big as a patient desires, Dr. Zenn knows the limits for each patient and has seen the problems down the road when an implant is too big for a woman's chest area. Those are the patients that seek out Dr. Zenn for breast surgery revisions down the road.
Dr. Zenn is well-versed in all the augmentation techniques and is an artist whose goal is to give each of his patients the most beautiful breasts possible. This unique combination of surgical skill and artistry explains why patients seek him out to perform their procedures. Also, Dr. Zenn strongly believes that he and his patients are partners in this endeavor. He and his staff will work with you to choose the best size for you. You will leave the consultation confident of the choice of implant and a surgeon!
GET INPUT FROM FRIENDS YOU TRUST
Having a spouse, significant other, or trusted friend with you during your consultation is always a good idea. They can support you and give you a different perspective on which breast implant size is right for you. Also, some people have a hard time deciding, and you always have the opportunity to try the implant on under a t-shirt or sweater as often as you like. Once you choose, you will not wake up from surgery "too big" or "too small" because you made the decision and have seen what it will look like pre-surgery.
WORK WITH AN EXPERIENCED PLASTIC SURGEON
Dr. Zenn is an internationally renowned plastic surgeon and, over his 25 years in practice, has performed all types of breast augmentation procedures for all shapes and sizes of women. He is board-certified by the American Board of Plastic Surgery and has been named one of the "Best Doctors In America" for many years. Newsweek named him "Top Plastic Surgeon in the USA" for three consecutive years (2021-2023), specifically for Top breast augmentation surgeon. He is the most experienced plastic surgeon in the Raleigh, NC, area. He has had the privilege of training many younger plastic surgeons now practicing in the Triangle during his years as Vice Chief of Plastic Surgery at Duke.
BOOK YOUR INITIAL CONSULTATION WITH DR. ZENN TODAY
Once you have performed your online research, it is time to schedule a one-on-one consultation with Dr. Zenn at Zenn Plastic Surgery. He will answer your questions and concerns and formulate an individualized treatment plan based on your specific goals. Call his office at (919) 480-3885 to schedule your initial consultation.