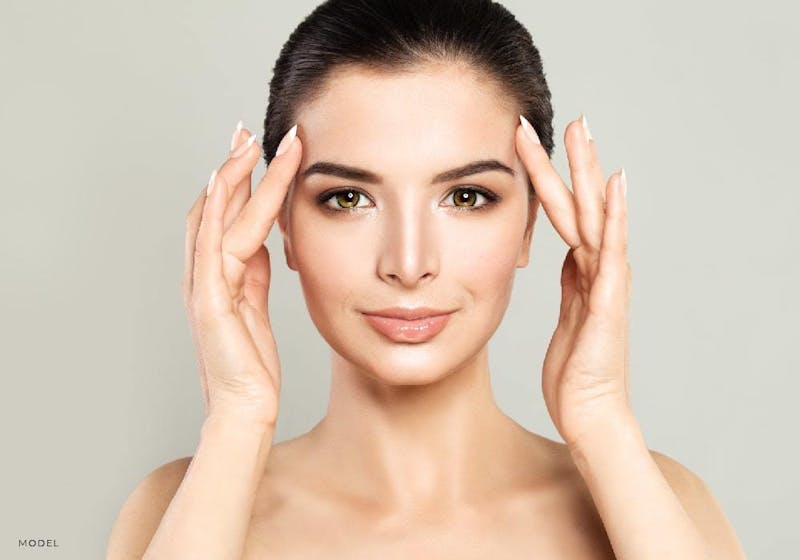 Is it getting harder and harder to put on make-up or even see your upper eyelids? Do you have deep forehead wrinkles or eyebrows that droop and sag? Are the hands of time getting the best of you? Dr. Zenn knows how discouraging it can be when your resting look is sad & tired, even when you're happy & rested. If you want your youthful & rejuvenated eyes back, you may be wondering what the best procedure is for your specific circumstances. Sometimes it's hard for men & women to know whether they need brow lift surgery or a blepharoplasty. The medical term blepharoplasty, means eyelid surgery. In this blog, we will discuss the difference between the two and give you an idea of how you can know which procedure will be best for you.
Brow Lift Surgery- Just As The Name Implies…
Literally a lifting of the eyebrows, brow lift surgery not only raises your eyebrow but reduces the wrinkles and lines that develop horizontally across the forehead, as well as those that occur on the bridge of the nose and between the eyes. Once the eyebrows are elevated, a more youthful appearance is created. Often, this is the only procedure required and patients are surprised that a blepharoplasty was not necessary.
During a brow lift surgery, Dr. Zenn will use an endoscope and performed the surgery through two ½ inch incisions hidden behind the hairline. Unquestionably, this method has been the biggest improvement in brow lift surgery. Because it avoids the old time "coronal" brow lift that required a scar from ear to ear and removed scalp tissue to achieve the lift.
Many plastic surgeons, Dr. Zenn included, recommend brow lift surgery as well for people who have very flat eyebrows. Having a beautiful arch to the eyebrow is another subtle but youthful and attractive feature.
Blepharoplasty
As has been noted, a Blepharoplasty is the medical term for eyelid surgery. It can involve removal of extra skin or fat and there are many techniques but basically the procedure improves the appearance of the eyelids. Blepharoplasty can be performed on the upper lids, lower lids, or both eyelids. Scars are well hidden, in the crease of the upper eyelid or under the lash line of the lower eyelid.
It can be hard to tell if the problem with your eyes is too much skin and fat or just a low eyebrow pushing down on your eyelids. When you come in to meet Dr. Zenn, he will examine you and show you where the problem lies and which surgery is required to give you that youthful look.
Brow Lift Surgery Combined With A Blepharoplasty
Some men and women have the unlucky combination of low eyebrows and too much skin and fat in their eyelids. Just doing one procedure alone will not correct the problem and those people are good candidates for both a brow lift and a blepharoplasty. If you suffer from many of the symptoms listed above, Dr. Zenn can give you a more rejuvenated and youthful appearance.
Contact Dr. Zenn At Zenn Plastic Surgery Today To Learn More
Dr. Zenn and his caring staff are happy to answer any questions you may have. Whether regarding brow lift surgery, a blepharoplasty, a complete facelift or neck lift, or non-surgical injectable dermal fillers may be a helpful option as well.
Call his office today at (919) 480-3885 to schedule your consultation